Collection of Documents
We use our own transport for Collection of documents for scanning. The collection is usually done with existing archive boxes, or archive boxes that we provide. Every box is labelled with a unique job and box number. The labels are kept anonymous for security reasons. We offer a FREE collection service via our secure tracked vehicles by our own staffs.
Data preparation and barcode generation
Often clients can provide us with a list of files from, for example, their HR management system. We can use this data to generate a barcode for each file. Each barcode is then placed with each file. This then keeps the files traceable; we will know what box each file is in. Each file is now a unique record in our database. This data is then used later in the process to run a 100% File Present Verification Process.
Document Preparation
Before documents are scanned, all the staples, paper clips and bindings need to be removed. Pages are straightened, aligned, rotated and gathered up into batches ready for the scanner. This is a very manual process and is often combined with inserting the barcodes.
Scanning of documents
The documents are now ready for scanning. We generally use midrange document scanners. This gives us a chance to constantly monitor the quality of the output and deal with any paper jams and multi-feeds. Our operators watch every document through the scanner meaning a real time quality control process is always in effect.
Barcode Separation
Here our software systems will search for barcodes and each time the software finds a valid barcode on a scanned document, it will split the scanned file, and name the file with the barcode number. The barcode number is usually the unique record ID from our database.
Indexing of scanned documents
The index is usually complete at this point. The barcode is linked back to the database, so we know exactly what the file is. Some projects where data is not provided in advance can be indexed from the scanned document and the database entry made at this point.
Quality control
During the scanning process our operators constantly monitor the images that are being created. Our midrange scanners provide enough time for this process. Random statistical quality controls are also in place to check batches of documents, in the event of a failure, batches being rescanned.
100% File present verification process
Here we can now run queries on the scanned files that have been created and relate this data back to the original index information that was provided. Discrepancies are investigated and reported.
OCR Optical character recognition process
Most of the work that we return is in PDF. A PDF can contain searchable OCR text, which can be searched upon, or extracted and used within a Document Management System. This is the process that OCR processes the raw scanned files and creates a searchable PDF, or a separate text file in the case of files that cannot contain text, such as TIFF or JPEG scanned files.
Output to specified specification
Every project is different. Some require a scanned document to be returned in a Windows folder structure, some will require a separate index file, such as a CSV, Excel, Access database. At this point our processes are designed for the Clients specific requirements, the scanned file format, TIFF, PDF, PDF/A, and the formatting of the file names and index formats are produced at this point.
Data Uploading
Scanned images are delivered back to you on a HDD or uploaded into either our own cloud hosted system or into your own database / EDM.
We provide On site & Off site Scanning services depending on the Clients requirements. We can get the scanners, PC's & Printers to the Clients premises.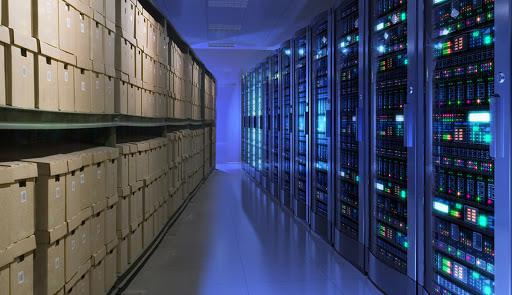 Document Storage
Secure Document Storage and Records Management Services provide the convenience, accessibility and security that is not always easy to achieve IN HOUSE. Our professional document storage and management services will give you 100% peace of mind while saving your time, space & money.
Return or storage
There are 2 options after scanning. Once you are happy you need your paperwork, we Securely deliver the documents back to you OR if required we Securely store the documents in a purpose build warehouse.
Recycling and shredding
In case the Documents have to be destroyed, we securely shred, pulp and recycled. A certificate of destruction is then issued. We provide On-site & Off-site Shredding Services. The documents and reports are shredded in presence of client so it ensures the security and confidentiality of the whole process.